Fire and smoke protection control system
The easiest way to maximum safety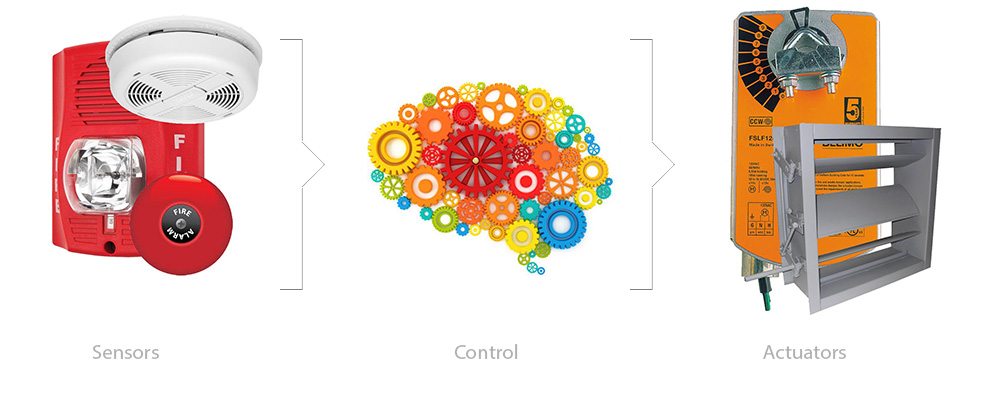 RingBus
Developed as a result of a long-term cooperation with Belimo. All modules are made exclusively for Belimo actuators and are compatible with them.
System proven in practice
Increasing safety
Reducing cost

Proven in practice
Since 2006
more than 60 objects
more than 40.000 units
over 100.000.000 people protected per year
Safety
Ensuring safety for millions of people daily
Fully meets today's requirements of modern building
The main advantage – reliability of operation
Fully operable in case of a bus short circuit
Fully operable in case of an interruption of the bus cable
Dedicated SCADA system (alarms, logs, reports, commands)
Savings
Major reduction of costs in important segments (material, planning, installation, commissioning, maintenance)
Cabling cost reduction (for E30 and E90 safety cables) by at least 80% compared to standard hard wired solution
Reduced energy cost by shutting off non used zones in the building
Protection of tangible assets in the building
All logic is in control matrix. No programming needed
Extended inspection cycles thanks to remote test possibility
Low space requirement
Is open for future changes and can be easily adapted (reduced reconstruction costs)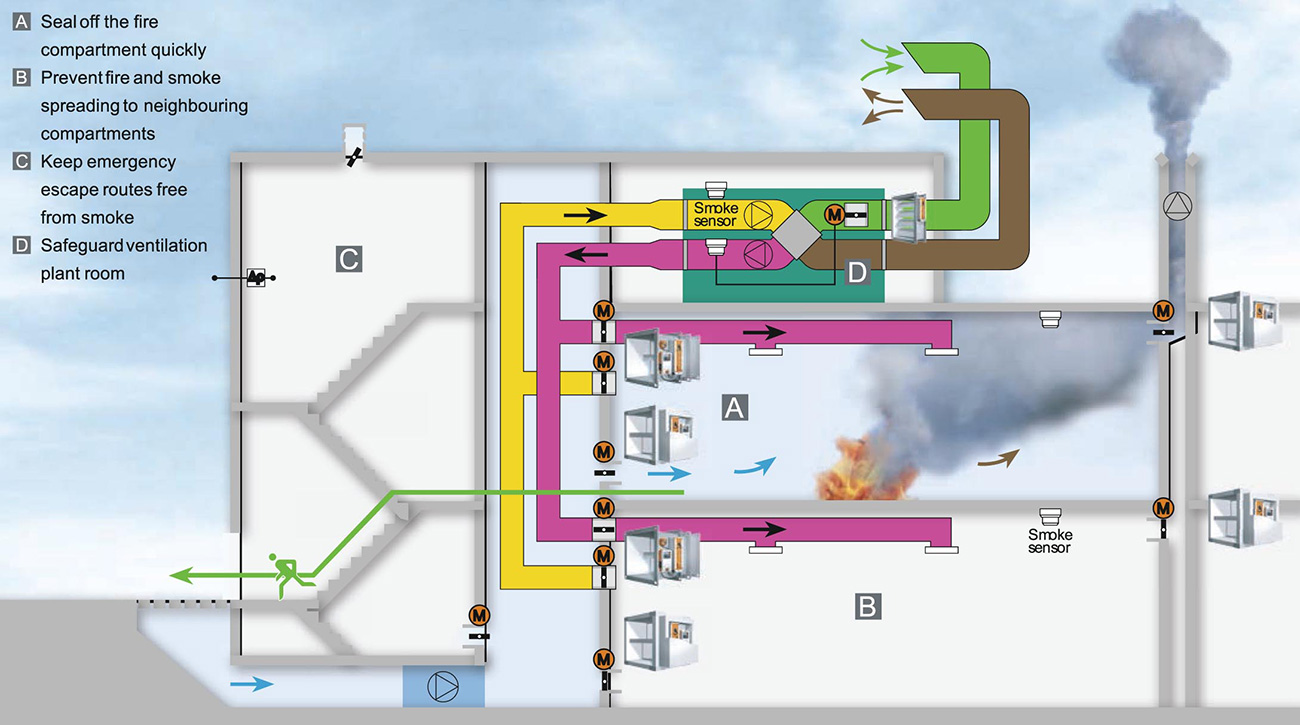 RINGBUS
Up to 16 rings
Up to 500 units in one ring
Up to 1000 elements in one ring
Maximum length 5.000 m
Maximum distance between units: 500 m
RINGVIEW
dedicated SCADA system for monitoring and control of fire protection system
graphical display of all elements' state
real-time display of the current system state
real-time display of current alarms in the system
control of single elements
control of group of elements
system functioning data acquisition
generating different report types
several levels of access rights
RINGBUS TOOL
software system for setup and maintenance of complex systems
setup of complex systems without programming
system configuration through a simple alarm –> element interaction matrix
fire protection zones visualization
alarm expression definition through graphical interface (FB logic)
Effective tools for system commissioning (step-by-step cabling checking, automatic addressing, freeze mode)
access rights setup
AES-256 encryption data protection
BACnet IP communication with BMS
protection of BACnet IP communication through SHA-256 message signing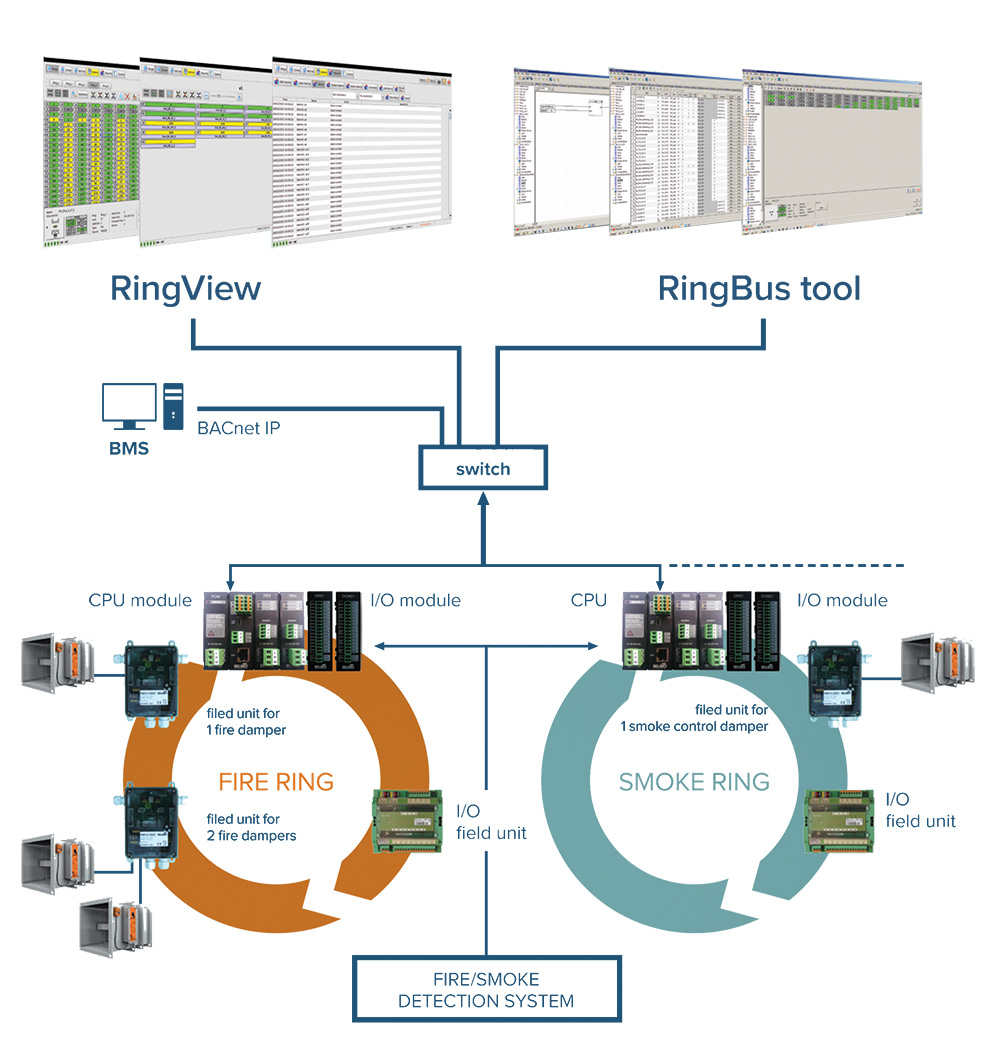 Advantages at a glance
Simple - Reduces planning, installation and maintenance costs significantly
Safe - Meets the requirements of today's building architecture and safety awareness
Comprehensive - Covers fire protection, smoke control and is open to integrate fans, fire alarm system etc.
Dedicated - Is a dedicated stand-alone system, (working independent from the BMS) representing state of the art technology for integrated fire protection and smoke control in buildings
State of the art tehnology - For integrated fire protection and smoke control in buildings
Saving people's lives
Protects over 22.000.000 people yearly at the Vienna International Airport
Protects over 20.000 people daily at Shopping City Sud
23.000 students a year at the Vienna University of Economics and Business
and those are just a few examples
RingBus system protects people in hospitals, train stations, universities, shopping malls, large office buildings, garages, hotels, airport…
Dedicated safety control system
RingBus is a dedicated safety control system developed by giving strong attention to modern requirements in architecture.
Its simplicity, flexibility and innovative technology allow easy integration into modern building without disturbing the architectural aspects, but also providing the necessary safety and functionality at an optimized cost/benefit ration.
Various available protocols provide full transparency to any overhead system.
I/O modules on the field and CPU side provide easy connection of air handling units, fans, fire alarms systems, etc.