EST-100 - SMART THERMOSTAT FOR ELECTRIC STORAGE WATER HEATERS
The solution for smart, energy efficient and connected water heaters
The future of electric water heater industry is in energy efficient, Ecodesign compliant and connected devices. The era of digital transformation, Smart Home and Internet of Things is coming – are you ready? We can help you in creation of the new generation of safe, more energy efficient and smart electric water heaters.
We have combined reliable mechanics and hi-tech electronics in EST-100 smart thermostat solution. The first component is classic rod/stem thermostat fitted with electronics. Standard thermostat installation is kept. The second component is LCD TFT 1.44'' display with 4 buttons for digital control. More display sizes available upon request. No excessive wiring due to the flat cable and quick faston connection.
EST-100 SMART THERMOSTAT CORE VALUES

SAFETY
Bimetal disc and bipolar safety cut-out
Safety software
Anti-Legionella function
Freeze protection function

This is our number one priority. With reliable mechanical bipolar safety cut-out and electronic functional cut-off, safety is guaranteed. The safety software is constantly monitoring the water temperature for the user's additional safety. If the water temperature doesn't reach 71 °C, 14 days in a row, EST-100 will automatically activate the Anti-Legionella cycle. Freeze protection function prevents the water temperature drops below 10 °C. Every EuroICC device is being comprehensively tested before the shipment.

ENERGY EFFICIENCY
Electronic temperature measurement
Eco mode
Programmable timer mode
Smart function

EST-100 smart thermostat development was inspired by The European Union's Ecodesign Directives. Increased accuracy is provided by electronic temperature measurement. SMART function, the advanced software for heating optimization, reduces energy consumption by up to 15%. It's applied in accordance and in line with the EU Regulation 812/2013 and 814/2013, implementing Directive 2009/125/EC. For optimal energy consumption, EST-100 offers ECO mode too, with the temperature setting at 55 °C.

CONNECTIVITY
Wi-Fi connection
Android and iOS apps
DWH as a Smart Home device
Internet of Things benefits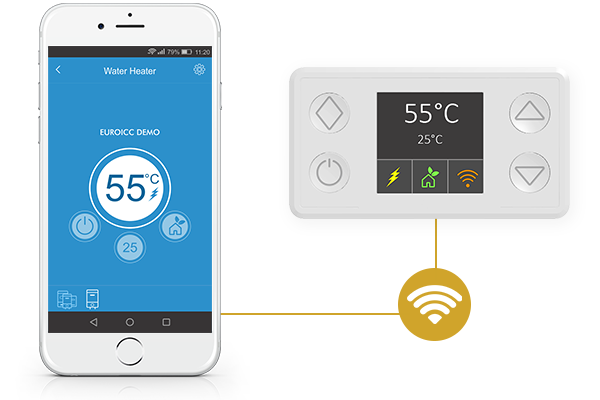 With EST-100 smart thermostat any electric storage water heater will become Smart Home device. Integrated Wi-Fi module enables wireless connection to the water heater. Remote control is provided via FREE and easy-to-use Android and iOS apps. Mobile apps have almost unlimited language localization and can be branded according to the water heater manufacturer's brand and colors.
The water heater can be connected and controlled via internet too, providing the real Internet of Things experience and benefits – distant remote control with additional safety and time and energy savings (coming soon).

END-USER COMFORT
LCD display
Digital control
Remote control
Adaptable to user's needs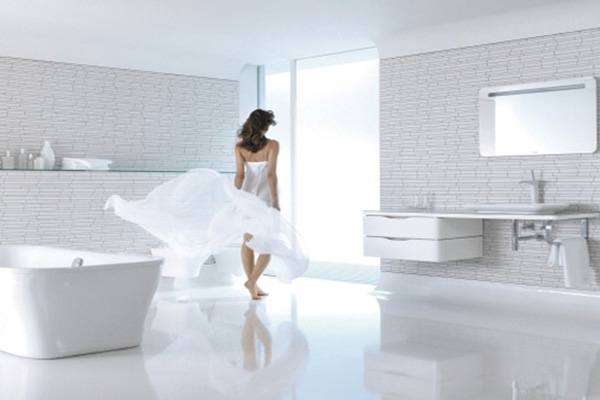 EST-100 solution is designed to maximize the water heater user comfort and to provide the effortless everyday usage. Hot water is available according to the consumer needs, as a result of self-learning and adaptable SMART function. LCD display provides digital control with user-friendly interface. Users can enjoy using 2 background and 5 selectable water heater operating modes (Manual, Eco, Smart, Timer, Travel).
OEM CUSTOMIZATION
We have 20 years of experience in developing and manufacturing of hi-tech electronics. As a proven OEM partner, we can provide you with:
Hardware and software modification
Unique and branded user interface
Completely customized product to your needs and specifications
20 years of experience in developing and manufacturing hi-tech electronics
Test lab
EuroICC skilled R&D team is equipped with in-house test laboratory. The testing software is developed by our software team. Every test is monitored and processed by EuroICC developed and manufactured PLCs. We are very proud of these competences and know-how, which you can rely on.
We can help water heater manufacturers in:
Innovation process
Product development
Energy efficiency testing